Enamel Hypoplasia / Dysplasia
Occasionally a dog or cat may have a tooth or several teeth erupt with abnormal enamel. Enamel is the white substance that covers the crown of a tooth. This abnormal enamel could be secondary to enamel hypoplasia or a faulty formation of the enamel matrix. As the pet matures the unhealthy or missing enamel chips away further. The underlying dentin, which is made up of living microscopic tubules, takes up the stain of the oral cavity. This causes the tooth to discolor usually turning first yellow then to brown. Treatment of enamel dysplasia involves removal of all abnormal enamel and then sealing the underlying dentin with either a composite restoration (filling) or bonded sealant. It is important that the pet does not chew on any hard or abrasive toys, as dentin is much softer than enamel and teeth with enamel dysplasia are more likely to wear and/or fracture than teeth with normal enamel.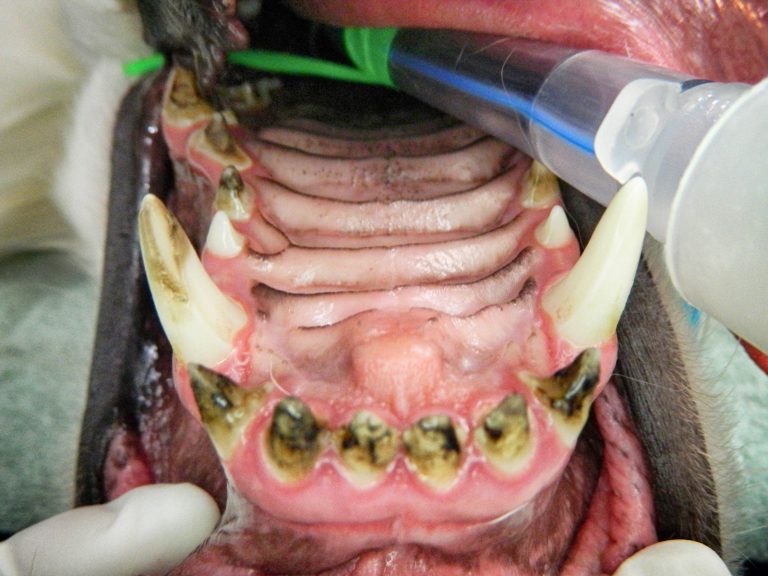 Thinking about Anesthesia Free Pet Dentistry?
First took our Sheltie rescue Murphy here because he's always had teeth issues. After taking full dental x-rays and we discovered he suffers from resorption, a painful condition whereby the teeth develop holes, sometimes below the gum line. He also needed a root canal. Dr. Volker explained this condition and her and her staff took excellent care of Murphy during and after his procedure. They are not inexpensive. We've since taken our other two Shelties there for treatment. I highly recommend them to anyone searching for a caring and knowledgeable staff.
Fixed my pit, Weezy, up very well. He's 3 1/2 and only a couple of his front teeth had come in, the rest were erupting inside his gums. ADC performed a noninvasive surgery, saving Weezy's canine, and only needing 2 weeks recovery. They took very good care of my little man!! He's still the smiley pup he's always been.. Now with no pain! The staff called many times after to check on Weezy's recovery and provided us with a free follow up appointment.
Great staff! Who knew animals needed dental care too?? They don't just treat the problem but actually take the time to answer questions and educate you. My dog broke her canine chewing on an antler (something I thought was supposed to help her teeth) and my vet said she could only extract it but if I was interested I could take her to the Dental Center and possibly save it. They did a root canal… A root canal for a dog? Yes it does exist! My Molly smiles a happy big smile with all four of her canines thanks to the doctors here! You can bet I went home and threw out all of her antlers and bones! Great staff, same day service, you pay a little more than you would at your regular vet, but you have more options as well. Molly says a round of tail wags!
Top notch care! Our regular vet missed the bone infection in our cat's jaw and, when she continued to get abscesses, we brought her here. Dr. Luskin is an expert and his staff is wonderful. Compassionate care of the highest caliber!
Call
(410) 828-1001

to make an appointment at any of our locations or click below to contact us.
Our doctors are Board Certified Veterinary Dentists™
The board-certified veterinary dentists at Animal Dental Center have the extensive knowledge, expertise, and specialized equipment to determine the extent and severity of your pet's oral disease and to provide appropriate treatment. You will have peace of mind knowing your pet is receiving a professional dental cleaning, diagnosis through radiographs and treatment of periodontal disease and other oral pathology. This treatment, usually combined with at-home daily oral homecare will also help to prevent future oral disease.