Preparing For Your Pet's Dental Procedure
What to expect during your pet's procedure with us:
All Animal Dental Center facilities offer our patients safe individualized anesthetic procedures utilizing state-of-the-art dental instrumentation and equipment.  The following helps illustrate what steps for preparing pets dental procedure:
Patient History / Physical Exam
All pets are seen by appointment only. Once checked-in, a member of our team begins by taking a thorough patient history followed by a comprehensive oral exam. Any prior diagnostic testing is reviewed and assessed for potential risk factors related to anesthesia and the procedures they will be undergoing.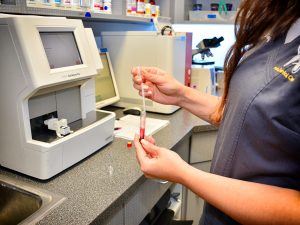 Pre-Op Testing Completed
Complete blood count and serum chemistry screening prior to the procedure allow us to check for any abnormalities that contribute to increased anesthetic risk. If abnormalities are present we may modify the anesthetic or surgical protocol to accommodate the problem.
Advanced Patient Monitoring
During the procedure highly trained veterinary technicians monitor patients on a 1-on-1 basis from induction through recovery. While under anesthesia, your pet will receive the following treatments:
Intravenous Catheterization
An intravenous catheter is placed in one of the patient's legs. The catheter is used to administer fluids and injectable medications directly into the bloodstream. Intravenous fluids help to replace fluid losses, maintain blood pressure and support blood pressure.
Customized Anesthesia Protocol
Isoflurane inhalant anesthesia is used to maintain anesthesia during the procedure. The anesthetic gas is carried by pure oxygen administered through a cuffed endotracheal tube that protects the animal's airway by preventing water or debris from the oral cavity from entering the lungs. Once the procedure is completed the isoflurane is turned off and the pet recovers within minutes.
Body Temperature
Body temperature is maintained using a forced air warming blanket and continuous temperature monitoring. The warmer can be adjusted to raise or lower your pet's body temperature as needed.
Vital Signs Monitoring
Multi-parameter vital signs monitoring: all pets undergoing anesthesia have their pulse oximetry (oxygen saturation), capnography (exhaled carbon dioxide), blood pressure, EKG and temperature continuously monitored. Your pet's designated technician regularly records these vital signs and can immediately respond to any changes with adjustments to the anesthetic protocol.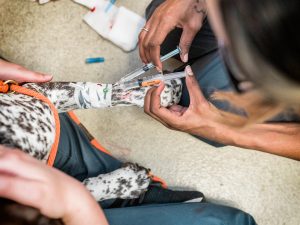 Pain Management
Pain management of our patients is an essential aspect of our oral treatment protocols. Combinations of multiple medications are chosen to minimize discomfort a speed recuperation. The Animal Dental Center uses local blocks, opioid and anti-inflammatory medications. The combination of technology (state of the art dental materials and equipment) and trained veterinary personnel provides for a high level of care for your pet's oral needs.
Patient Discharge
Most pets will be discharged to go home the same day. A member of our nursing staff will provide written and oral discharge instructions as well as any medications and home care needed when you pick up your pet. We will send a detailed referral summary report to your veterinarian for your pet's medical records.
Pet Food & Water Guidelines
For all scheduled procedures, please do not feed your pet within 12 hours of the procedure appointment.  Water can be given as usual, and you may continue to give any medication prescribed by your veterinarian.
If you have an appointment for a consultation followed by a procedure, please do not feed your pet within 12 hours of the procedure appointment. This generally means no food / treats after 8PM the night before. Water can be given as usual, and you may continue to give any medication prescribed by your veterinarian.
If you have an appointment for a consultation / examination only (you do not wish to schedule the procedure on the same day), there are no special considerations for feeding or allowing water the morning of your appointment. While our team always contacts your primary veterinarian for all patient records, please bring any x-rays / laboratory tests that your veterinarian has given you.
Thinking about Anesthesia Free Pet Dentistry?
First took our Sheltie rescue Murphy here because he's always had teeth issues. After taking full dental x-rays and we discovered he suffers from resorption, a painful condition whereby the teeth develop holes, sometimes below the gum line. He also needed a root canal. Dr. Volker explained this condition and her and her staff took excellent care of Murphy during and after his procedure. They are not inexpensive. We've since taken our other two Shelties there for treatment. I highly recommend them to anyone searching for a caring and knowledgeable staff.
Fixed my pit, Weezy, up very well. He's 3 1/2 and only a couple of his front teeth had come in, the rest were erupting inside his gums. ADC performed a noninvasive surgery, saving Weezy's canine, and only needing 2 weeks recovery. They took very good care of my little man!! He's still the smiley pup he's always been.. Now with no pain! The staff called many times after to check on Weezy's recovery and provided us with a free follow up appointment.
Great staff! Who knew animals needed dental care too?? They don't just treat the problem but actually take the time to answer questions and educate you. My dog broke her canine chewing on an antler (something I thought was supposed to help her teeth) and my vet said she could only extract it but if I was interested I could take her to the Dental Center and possibly save it. They did a root canal… A root canal for a dog? Yes it does exist! My Molly smiles a happy big smile with all four of her canines thanks to the doctors here! You can bet I went home and threw out all of her antlers and bones! Great staff, same day service, you pay a little more than you would at your regular vet, but you have more options as well. Molly says a round of tail wags!
Top notch care! Our regular vet missed the bone infection in our cat's jaw and, when she continued to get abscesses, we brought her here. Dr. Luskin is an expert and his staff is wonderful. Compassionate care of the highest caliber!
Call
(410) 828-1001

to make an appointment at any of our locations or click below to contact us.
Our doctors are Board Certified Veterinary Dentists™
The board-certified veterinary dentists at Animal Dental Center have the extensive knowledge, expertise, and specialized equipment to determine the extent and severity of your pet's oral disease and to provide appropriate treatment. You will have peace of mind knowing your pet is receiving a professional dental cleaning, diagnosis through radiographs and treatment of periodontal disease and other oral pathology. This treatment, usually combined with at-home daily oral homecare will also help to prevent future oral disease.